Spread The Metal Records Announce Charity Festival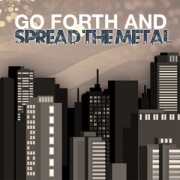 A press release just dropped into my inbox from Spread The Metal Records, detailing an all-ages charity metal festival that's taking place in Halifax, Canada. It's only $50CAD for a day, or $70CAD for the whole thing, so around $4 per band. Not bad, eh? To quote the press release:
The festival will see 100% of the net ticket revenue donated to the Heart and Stroke Foundation and this will be a recurring event every year. Hosted by Spread the Metal Records, the fundraising goal has been set at a very ambitious $100,000. With your support, it can happen.
The full line-up can be viewed below, with times provided.
TIME
12.00
13.00
14.00
15.15
16.30
18.00
19.30
21.15
5th July
Answer With Metal
Last Call Chernobyl
Dischord
Hallows Die
Descend
Fallen Joy
BLACKGUARD
KATAKLYSM
6th July
Cry Oh Crisis
Strigampire
Death Valley Driver
Crimson Shadows
Blasphemy Reborn
Black Moor
CRYPTOPSY
MORBID ANGEL
The Facebook event page is here, tickets are available over the phone (1-888-311-9090) or at this address, or in person at the Halifax Forum. If you're in the area, I strongly encourage you go along to this festival, both for a good cause and a sore neck.
This entry was posted on April 22, 2012 by Mark/Angel. It was filed under News and was tagged with charity festival, Kataklysm, metal, Morbid Angel, news.